There are so many brands of make up to chose from, a girl could get lost in the process. I know that I have take a few bad turn before. I do these reviews in hopes that at least person will be lead to what is right for them. Before I lost my job, I would purchase all my make up from MAC and sephora. I knew I was spending to much but justified it to myself by saying that I work hard, so I should be able to play as hard as I want. It was fun while it lasted, but it open a new door for me in so many ways. I am looking at many things in a new way and I had to learn how to spend smart. I am not going to go on about my life, but I will say that it made me look to other brands of make up. I demanded the same result at a less price. You will see many reviews on this blog and yes, several will be on affordable brands. Not to say that I have lost my eye for other things, but if you can have the same thing for less than why not?
With all of that said, Everything on this blog is not going to be bargain shopping, but I wanted to give you a little background of my own.
Lets now talk about a drug store brand: Wet n' Wild. I know that this brand has been around for a while, but I only bought my first item (which was the creme liner in black) a year ago. I had watched a review on this item and bought it because I was going out and ran out of my MAC fluidline in Blacktrack. When I walked into CVS for only $3.99 I knew I had to at least give it a try. I have yet to go make to MAC fluidline.
Months later I noticed how cheap the eye shadows were and (of course) heard good things, so I took the plug and bought some. I do not regret anything I had bought from this brand thus far. I have the trios in: Silent Treatment, Knock On Wood, and Cool As A Cucumber. In the Palettes : Comfort Zone, Petal Pusher and Blue Had Me At Hello. I probably bought much more than I needed but the Trios are $2.99 (3 colors) and the Palettes are $4.99 (8 colors). You know that is a good buy, especially if the product has a great payoff. All the shadows are very pigmented and even easier application everything has been labled, Browbone, Crease, and Eyelid. If you like straightforward eyeshadow, you will like how the work has already been done, you will know exactly where to place the colors to achieve the look.
Pros: Packing provided how to instructions to achieve the look you would like and how to tone it down or make it more dramatic, You can create many looks with one palette or trio, great price, long day wear (with primer), Packing it simple and function-able.
Cons: I would have liked to see a couple more matter colors (This is not a huge problem because I use some of the MAC or NYX colors I already have it sometimes), a little more variety in colors available (most colors fall under neutrals, greens, blues, and purples. I would like some pinks, coppers and taupe colors)
Below are the trios and palettes that I have:
Before looking at the trios and palettes, it is important to know where to apply each color. This is the visual that is provided on the back of the packaging. Your brow Bone is located directly under the arch in your eyebrows, when looking directly into a mirror you will see the crease that natural made when your eyes are open. The lid is between your eyelashes and your crease.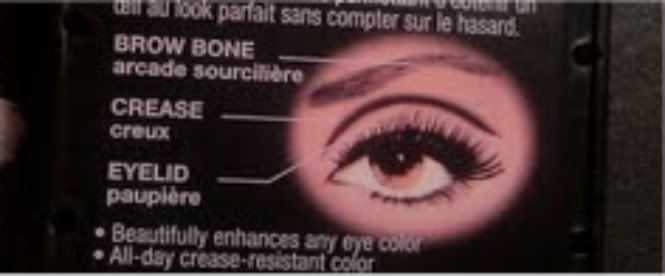 I also found this drawing on line to better assist you with the different ares on your eye lid. In the palettes there are also colors that are labeled as "Definer" If you look at the chart below this area is labeled as 4. Definition color. Definer can be used as a top liner (liner above the eye), smudged under the eye or on the outer edge of the lid to create a more dramatic and defined look. (I will be putting up more post to further explain)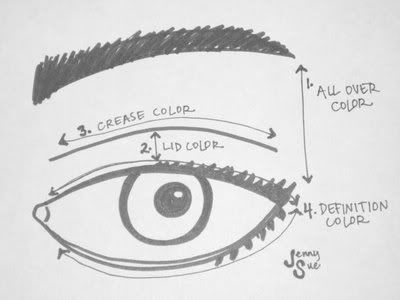 Knock On Wood - This trio will give you more of a dramatic look with brown and a copper color. For a more natural look use the browbone color on your lid and use the crease color. Add a nude highlight to the browbone and your done.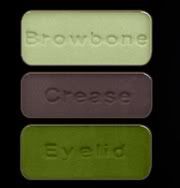 Cool As A Cucumber - This is green with a purple color in the crease. This trio can be dramatic or everyday depending on how much of each color you apply. Eyelid color is a little deeper than appears in this photo.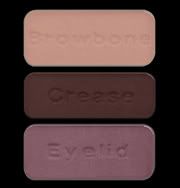 T
Silent Treatment - This trio will give you more of a neutral look.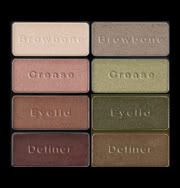 Comfort Zone - Several looks can be created with browns and greens.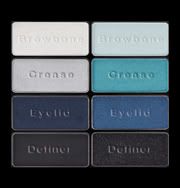 Blue Had Me At Hello - All the colors in are different shades of blues, with a silver and a white shadow.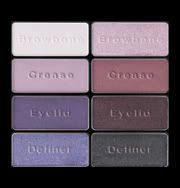 Petal Pusher - Obtain several looks with different shades of purple and 2 light pink colors to use on brow bone.
All photos were obtained from wetnwild website because my photos could not show color well.
Will post different looks that you can make with these palettes soon.