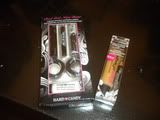 Bad Girl Next Door
is a make up set by
Hard Candy
that included everything you for your eyes. Hard Candy's description states : "2 kat-eye-descopes, eyeshadow primer, lash tinsel, take me out liner, & ginormous lash". This set included 2 eyeshadows, eyeshadow primer, Mascara, Pencil liner,and glitter Mascara. This set contains blacks and silvers, there was another one that contained browns and gold, but I purchased this one because I use black liner and black mascara more often so I thought I would get more use out of this one. This was $8.00 from Walmart.
I was also very happy to get Glamoflauge Heavy Duty concealor in Tan. Look at my previous hard candy review to see my thoughts on this concealor, but I have a hard time finding this item especially in Tan. For those of you experiencing the same problem, you can order this item on walmart.com for no additional charge. It will be mailed to your shipping address for the same price you would have paid in store. Sometimes its sold out on line too but they seem to get the product more often on line than in stores. (hope that helps)
Eyeshadows-- Hard Candy's description: "Highly pigmented single Kal-eye-descope baked shadows. Apply "wet" for more dramatic, intense color or "dry" for a softer shimmery effect. Shade: Bad Reputation.
The lighter color is a white frost color and the other is a dark silver/grey color. True to the description both of these shadows are highly pigmented and I found that they blend very well. In my opinion, these colors would work well with an evening look. Photos below provide swatches.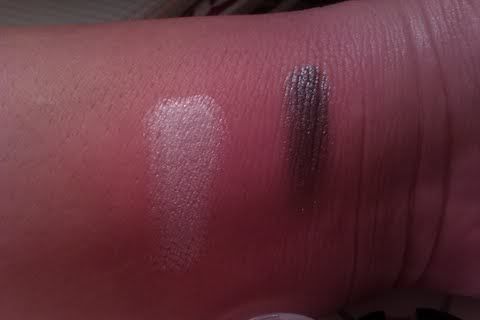 Eyeshadow Primer
—Hard Candy's description: "Instantly eliminate creasing, fading, and smudging. A drop of product is all it takes. Apply to lids prior to shadow application."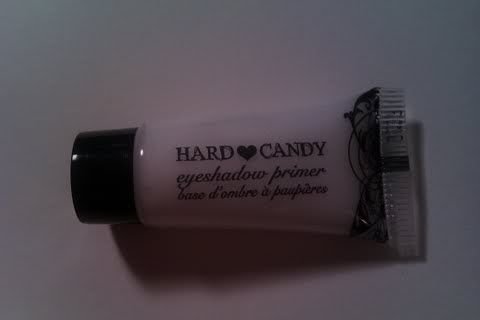 I have heard a lot of good things about this eyeshadow primer, so of course, I was looking to finally be able to try it out for myself. First of all, I must say that Hard Candy does not sell the eyeshadow primer by itself, If you want to get it you will have to purchase the makeup sets that include it. It comes in a small tube, very simple packaging. I myself prefer the tube because I feel that I am able to get more use of all the product, plus it is more santiary because you are able to squeese out what you need, as opposed you a wond because you touch the wond and place in back in the product several times. Now to the information that really matters, the primer works great. A little goes a long way and it keeps your eyeshadow in place. I usually wear my make up for at least 10+ hours daily ( I know I should wash my face when I get home, but I am lazy) and my shadow is still on. I will say that after 6 or 7 hours the eyeshadow will start to look worn but I only noticied because I was examing how this primer worked. Since you have to buy a make up set to get this primer, I will say that it is worth it. I bought this set for $8.00 and I have heard that some of the set are as low as 4 or 5 dollars. If you can get it for that price it is worth it if you are only going to use the primer. I know it is small but I only use a very small amount so I gather that I will be able to make this last.
Lash Tinsel Glitter Mascara
-- Hard Candy's Description "A gel-based mascara with serious sparkle. Apply Lash Tinsel in Spellbound for an all out glam-tastic look!"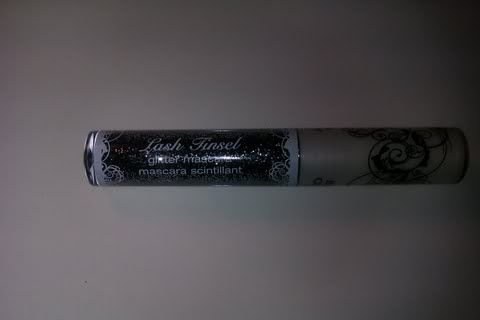 Although this mascara is fun, its not for me. It comes with a basic wond and it will add silver sparkle to your lashes but it didn't add the wow factor I would like. It takes at least 4 layers to make the sparkle noticeable. I was not impressed so I do not have much to say about this.
Take Me Out Glittering Eye Liner
- Hard Candy's description "Flaunt a little shimmery flair for the fun of it with a micro glitter infused Take Me Out Liner in Abyss."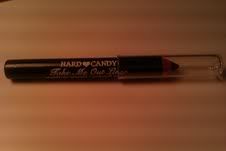 I am not sure about shimmery, but this is a basic black pencil liner. I used this to line my water line, very pigmented, but sorry no shimmer of any kind. In lasted for about 4 hours before I needed to retouch my liner. I would consider buying this product again because I do use a pencil liner most day.
Ginormous Lash Volumizing Mascara
- Hard Candy's description: "Fatten your flutter with Ginormous Lash in Blackout for truly bat-worthy volume and glamour.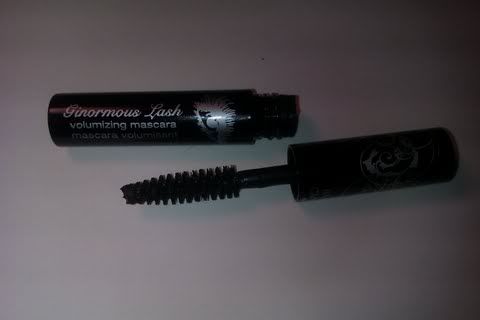 This is the worse mascara that I have ever used. The mascara was very dry and did not add any color to my eyelashes. The wond was very basic and that's all I can really say about it. I wanted to be fair so I used this mascara 3 times and each time my lashes actually looked shorter (which is not great because I already have short lashes) and it didn't look like I added anything to my lashes. I am not sure if there is a difference because this is a sample size. If anyone has had a better experience I would love to hear about it. I am wondering if the full size is actually different. For now, I do not plan on purchasing this item.