Concealers
are the most important item in your beauty bag. Finding the right concealer will allow you to achieve that flawless look by hiding any imperfection that you have. First, you have to find the concealer that will work best with your skin type and the problem you are concealing. It is important to understand the different types of concealers and what they are best used for and how to apply each.
Pot Concealers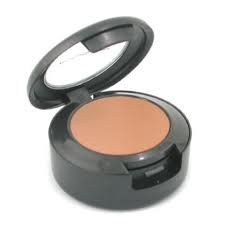 MAC Studio Finish Concealer shown above, is an example of a pot concealer. These Concealers usually have a thick texture and provided full coverage. These are best used to conceal blemishes, scars, and dark spots on the face. Its also great for all skin types. The thick texture allows you to conceal more and will stay on your skin longer.
When it comes to
application
using your finger is usually the best way to apply this type of concealer. When using your finger, the concealer is warmed by your natural body heat, which makes the concealer blend easier and better into your skin. When applying onto your skin you must use a patting or dabbing motion and not swipe or wipe motion. By patting or dabbing into your skin, you will be able to better control the amount of concealer used, and will blend well. If you swipe or wipe the concealer on the needed area, you will be actually wiping it off the area and creating a streaking look.
In my experience, I would apply this type of concealer after applying foundation. Foundation provides a certain amount of coverage and after the application you can assess what areas need to be concealed. Plus, you are less likely to have a cakey look because you will only use concealer where is it needed. It is very important to know that if you are going to apply concealer after foundation, you must make sure that the color matches your skin exactly. Also, Building up coverage (applying a thin layer at a time) will ensure that you do not apply too much concealer. I am not saying that you can not apply concealer before your foundation, but make sure not to apply too much because it will create a cakey look instead flawless skin.
Wand Concealers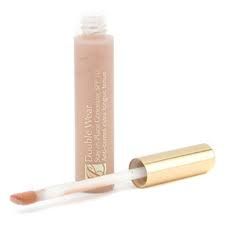 Estee - lauder Double Wear Stay in Place Concealer, shown above, is an example of a wand concealer. These concealers usually have more of a liquid texture and have sheer to medium coverage. These can be used anywhere that needs light coverage is needed.
Application
is very simple with these types of concealer because you can use the wand provided. Like explained above you should still dab or pat these concealers into your skin for a natural look. These type of concealers tend to be better for those with dry skin.
I have only used a couple of wand concealers because I need medium to full coverage. In my experience, using this type of concealer before you apply your foundation is best. Since it is usually more of a sheer coverage you will not risk creating a cakey look (unless you really use a lot in a small area). Also, it might be better to use before foundation because with wand concealers it can be a little more difficult to find an exact match to your skin tone.
Tube Concealers
Handy Candy Glamoflauge heavy duty concealer, shown above, is an example of a tube concealer. These concealers are usually a creamy texture (but not too thick) and can be used for light to medium coverage.These have very build-able coverage, so you can use as a full coverage. These are best used to conceal slight blemishes, under the eye, and dark spots.
When is comes to
Application
, using a small stiff brush or your fingers would be best. You could squeeze a small amount on the back of your hand and use either the brush or your finger to apply to your problem area. As stated at the above, make sure to dab or pat into your skin, but do not wipe or swipe. Usually with tube concealers, a little goes a long way, so start with a small amount and apply think layers of concealer until you get the coverage you desire. You can apply before or after foundation, but if you choose to apply after foundation make sure that the concealer matches your skin tone so that you will achieve a flawless natural look.
I have used tube concealers for areas where I needed medium coverage. I usually use this type of concealer before I apply my foundation. I prefer to use my finger because it will blend much better. Since these concealers are very build-able I apply thin layers until I achieve the look that I am going for. Also, if you have a concealer that matches your skin tone, I sometime apply before and after foundation if I see an area that needed a little more coverage and it still blends very well.
Finishing The Look
To set your look and make sure that your make up last all day. (okay, you may need a touch up here or there). After you apply your foundation and concealer to your liking you need to set it with a loose setting powder. Any setting powder will do, but to get the best result use a flat fluffy sponge like seen below:

Using light dabbing or patting with a small amount of loose powder will set your concealer and/or foundation. I know that many use concealer without foundation, but remember that you still need to set the concealer with loose powder if you want the concealer to stay on your skin.
I hope that this information is helpful to some, but I want everyone to know that you have to work with your own skin type and skin issues. You may find that you have a completely different way of making concealer work for you and if so share your thoughts and tips.