Hard Candy Cosmetics is make up brand that is sold exclusively at Walmart. I do not know the exact history of this brand, but I have heard that this brand use to be sold at sephora, went bankrupt and now is at walmart.
After viewing a review on the Glamoflauge heavy duty concealer, I thought why not give it a try. I have hyperpigmentation on my face, so I am always looking for something to even out my skin tone.
The product description is the following:
A heavy duty, highly pigmented, multi-use concealer that delivers ultimate coverage. The formula blends seamlessly into skin with plenty of play time creating a flawless and natural look perfect for any occasion. You can hide everything from dark circles and blemishes to tattoos!
After using it for a few weeks, I must admit that I really like this product. The coverage was great. With this concealer a little goes a long way. The dark spots on my face usually take a long time to cover up but I used less than a dime size to cover everything. Believe me I usually go through concealers quickly but this one is going to last. I use it before foundation and it blends very well. It also comes with a concealer pencil that is suppose to be used to outline the problem area. Honestly, I do not see the point of using it and actually I do not use it for that purpose. I do use the pencil to line the outside of my lips to make the shade i am wearing stand out and ensure the color will stay in place. The best part is that this only cost $6.00.
The one negative part of this product is that it only comes in 3 colors: light, medium, tan. but I think you can make it work on your skin.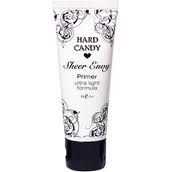 Another item I have tried in Hard Candy Sheer Envy Primer. I have only been using this for one week. Thus far, I really like it. My make up has been staying in place and skin looks good. I will continue to use it and add to this review if I notice anything else. I really think it is a great buy for only $8.00. There are 2 other face primers and I may purchase them to see the difference. I do not have anything else to say about this product.
I purchased these items with my own money and this is my true opinion.