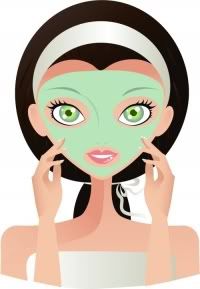 THIS WEEK DIY THURSDAY WILL CONTINUE ON FACIAL MASKS.
I have been so excited to see so many people interested in these DIY beauty treatments. Last week someone asked to know more about the science behind why these treatments are so good for your skin. I am still doing research and will talk more about this subject next week so make sure to check out DIY Thursday next week.
I have to say that this last week I started using the egg white and egg yolk masks and am loving them. Recently I had a bad break out and after a couple of treatments, my face started the clear up and my skin does feel softer.
Here are some more facial masks to try out this weekend.
Vinegar
Using vinegar as a skin toner dates back to the time of Helen of Troy. And it's just as effective today. After you wash your face, mix 1 tablespoon apple cider vinegar with 2 cups water as a finishing rinse to cleanse and tighten your skin. You can also make your own facial treatment by mixing 1/4 cup cider vinegar with 1/4 cup water. Gently apply the solution to your face and let it dry.
Milk
Here's another way to give yourself a fancy spa facial at home. Make a mask by mixing 1/4 cup powdered milk with enough water to form a thick paste. Thoroughly coat your face with the mixture, let dry completely, then rinse with warm water. Your face will feel fresh and rejuvenated.
Mayonnaise
Why waste money on expensive creams when you can treat yourself to a soothing facial with whole-egg mayonnaise from your own refrigerator? Gently spread the mayonnaise over your face and leave it on for about 20 minutes. Then wipe it off and rinse with cool water. Your face will feel clean and smooth.
Lemon
Create a facial that both exfoliates and moisturizes by mixing the juice from 1 lemon with ¼ cup olive oil or sweet almond oil.
Mustard
Pat your face with mild yellow mustard for a bracing facial that will soothe and stimulate your skin. Try it on a small test area first to make sure it will not be irritating.
PLEASE COMMENT ON SOME OF YOUR OWN DIY FACIALS AND SHARE YOUR EXPERIENCES.