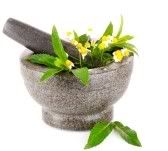 After reading several natural skin treatments, I have to admit that I was very surprise by the ingredients, but if my skin will benefit from it, I am willing to give it a try. Hope that you enjoy this weeks. DIY Facial.
Chamomile and Mint Facial
This herbal facial can help you get rid of
acne
and other
skin
problems
. In a medium bowl mix 1 tsp dried chamomile flowers, 1 tsp chopped fresh mint along with 1 tbs honey and 1 egg.
This complex facial recipe won't empty your pocket, still can have a positive impact on the condition of your complexion. Apply the mixture on your face and neck if you wish. Let the mask dry for at least 10-15 minutes then rinse it off with tepid water.
PLEASE COMMENT: LET ME KNOW WHAT YOU THINK OF THIS MASK AND I WOULD LOVE TO HEAR IF YOU TRY IT...