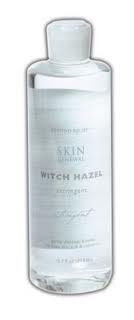 Witch Hazel has been used use in various ways for several years. I discovered this product about 6 months ago. I was looking for an affordable toner that would help with my acne and this is what I found.
You can Purchase this almost anywhere. Drug Stores, Markets, etc. I purchased this at Sally's. The price can range from $3 - $5, depending on where you purchase this.
Medical Studies have shown that Witch Hazel contains an anti-inflammatory effects and can reduce erythema caused by sunburn, protects skin with anti-oxidant properties to fight anti-aging free radicals.
Witch Hazel is an excellent natural astringent, which reduces inflammation, sanitizing the skin and at the same time helps with hydration of the skin and stabilizes the barrier function of the skin.
It also calms irritated skin and reduces trans-dermal water loss.
Simply use a cotton ball to apply to the skin as a toner. For best results, use this once in the morning and before bed. I have to warn you that there is a odor when you first apply, but disappears in seconds.
For myself, I really like this product and when I am using it twice a day every day, i notice that i have little to no break out.
I hope that this information does help..
LET ME KNOW WHAT YOUR FAVORITE TONER.